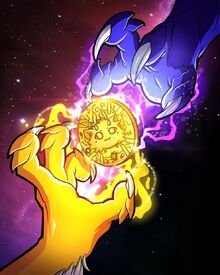 Time holds infinite possibilities, but reality is bound by fate. Even Chronos is powerless to undo the chains of destiny.
Trivia
Gallery
Game Use
Element: Mystic
Property: Energy
Function: Fated Junction is a trap.
Rating: Trap 0 allows user to change results of coin flips and dice rolls in single turn.
Effects: Fated Junction when activated, instead of canceling an action, this trap allows the user to change the results of all coin flips and dice rolls during a single turn. This card may be discarded from the user's hand while playing Savage Creed in order to make Savage Creed trap-proof.
Community content is available under
CC-BY-SA
unless otherwise noted.