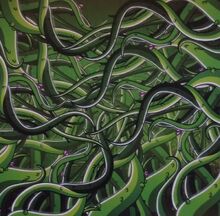 This powerful technique developed by the Oiseauti involves using special music to command thornwail vines. Thornwail are very aggressive plants that seem to respond instinctively to certain sounds.
Trivia
Game Use
Element: Nature
Property: Normal
Function: Entanglement is a trap.
Rating: Trap 0 traps the action.
Effects: Entanglement traps a normal action.
Community content is available under
CC-BY-SA
unless otherwise noted.